Inexpensive Motorscooters

The motorscooter is clearly the least expensive route to road mobility, as well as being stylish and practical. Cheap Chinese motorscooters can run for less than $600 to well over $5000. Quality does vary, as does street legality as defined in different states, however, reasonably high quality, inexpensive scooters have recently come on the market that justify entering the scootering world with a minimal investment. An inexpensive scooter will almost certainly pay for itself (see Motor Scooter return on investment calculator) and give you time to determine whether the scooter world is for you or not. Then, you can either chuck the whole thing having recouped your investment, or, if scooter enthusiasm is unquenched, ride it for many more years (or even invest in a Vespa.)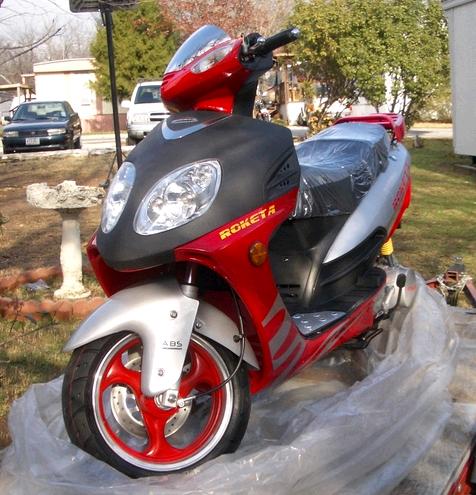 Wikipedia: states that China has become the largest manufacturer of scooters in the world, producing over 50% of scooters sold anywhere. With better prices and improving quality, Chinese scooters have been able to comply with strict United States DOT & EPA standards. Some have even passed California Air Resources Board requirements which have unfortunatly hampered scooter popularity in California. Chinese-made motorscooters still vary a great deal in quality, and online purchasing can easily lead to frustration and disappointment. From our own personal experiences and those of many other cyberspace scooterists, we have tried to find the best deals on those scooters that are well supported, widely ridden, and loved by their owners (See buying scooters online).
Basic serviceable scooters can be acquired from a number of sources, some of which have generated a reasonable following of satisfied customers. One online dealer with predominantly positive reviews is Evosales with their exclusive Roadrummer line, though they haven't always been able to keep them in stock. Global Trailer has been selling scooters since 2002, seems to be able to keep everything in stock and has some really nice machines (see the Torino, on of the great Classic Scooters).
Neoscooters has a great line of electric motorscooters.
The Classic Motorscooter